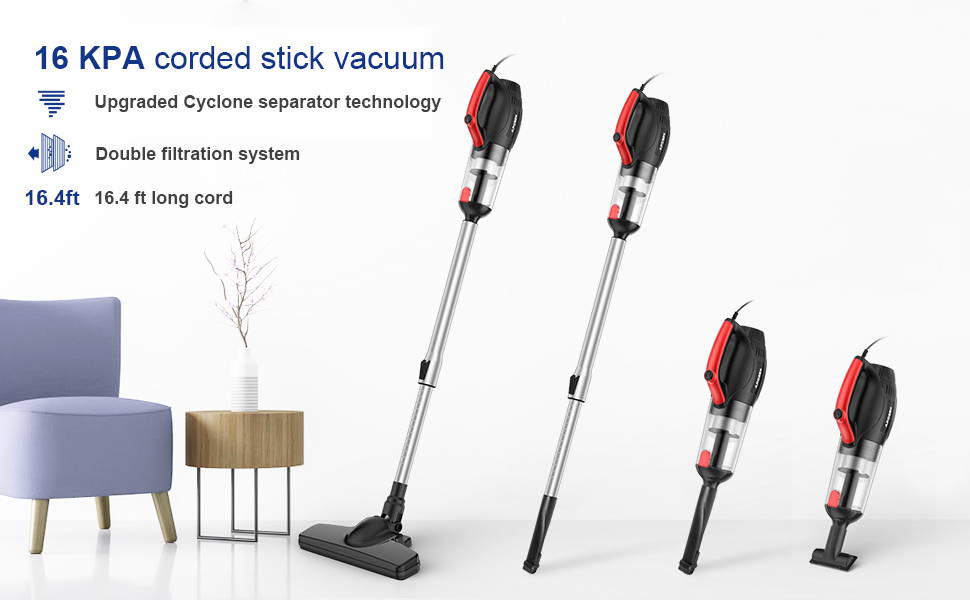 APOSEN 16KPa 4-in-1 Corded Stick Vacuum Cleaner H21-500P
clean the way you want for Hard Floor, Table,Sofa, Home& pet Hair
The upgrade version provides 16kpa powerful suction to meet every cleaning demands, picks up debris and dusts, crumbs and pet hairs in minute.
With a variety of accessories, handheld mode to be 4-in-1 vacuum cleaner. No matter be small aperture, the corner that still is sofa can solve easily. Handheld mode can clean the bed, sofa, desktop, etc. Meet your needs in life.
Plus high-density HEPA which removes up to 99.99% of microscopic dust particles as small as 0.1 microns. HEPA and cylinder filer are washable.



| | |
| --- | --- |
| Package Dimensions: | 16.54 x 9.06 x 4.72 inches |
| Item Weight: | 3.89pounds. |
| Power: | 500W |
| Product Model: | H201-500P |
| Cord Length: | 16.4 ft |
| Warranty: | 12 month warranty |
| Filter: | Washable HEPA |
| Suction: | 16KPa |
| Surface Recommendation: | Hard Floor, Table,Sofa, Home& Pet Hair |
Can't find question? Email us: usa@iaposen.com
What will you get in the package?
🎁Main Motor🎁Floor Brush🎁2-in-1 Cleaning Brush🎁Cleaning Tool🎁Lightweight Aluminum Alloy Tube🎁HEPA🎁Square Brush
Can I use this to vacuum under my bed and sofa?
Of course, it comes with different attachments to clean different areas, up to the ceiling and down to areas under furniture, such as stairs, cars, and sofa, etc. It's amazing how easily you can clean a gap only 5cm height!
How effective is this vacuum cleaner? Is it easy to use?
I'm impressed by how good it does its job! Very efficient compared to by corded vacuum. It comes with many accessories, and I can use it for my car and sofa and my hard floor, super easy to use!
Complete sealing design and a high-density HEPA filter which captures 99.99% of the microscopic dust. This vacuum cleaner provides the ultimate purified air and excellent cleaning experience for every users. HEPA is washable and recyclable.
How well does this vacuum cleaner cordless pick up dog & cat hair?
I have 2 dogs and hardwood floors and this stick handheld vacuum is working great for me.