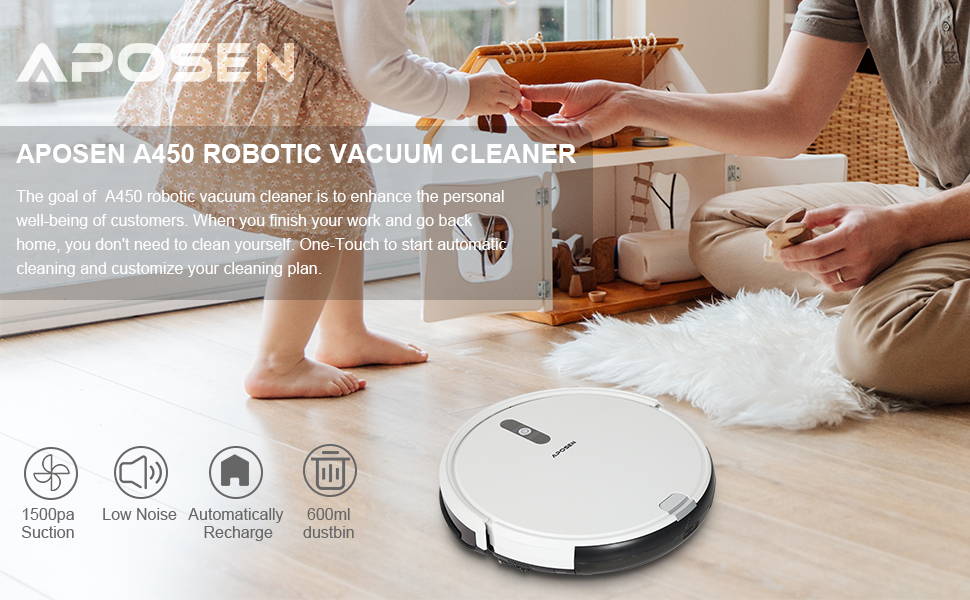 The APOSEN home furnishing technical team has been committed to creating convenient, practical and smart home equipment for users.
Robot vacuums is one of the most important parts of our home series.
While the goal of A450 robotic vacuum cleaner is to enhance personal happiness in life.
When you finish your busy work and go back home, you don't need to clean yourself.
One-touch to start automatic cleaning.
3 different cleaning modes with 3 suction modes can easily customize your cleaning plan.



APOSEN A450 ROBOT VACUUM, TO BE THE FIRST ROBOT VACUUM IN YOUR LIFE
POWERFUL SUCTION, ALWAYS READY TO GO
1500Pa of intense suction picks up dust, crumbs, pet hairs and dirt. Ideal for cleaning hard wood floors or carpets. Easy operation with remote control, or auto clean all at one touch.
IDEAL FOR PET OWNERS
The redesigned double side brush structure has better dust collection performance. Combine with the floating roller brush, the cleaning performance is satisfactory.All in all,It's a great investment for all pet owners! Besides,the 3-stage filtration system can effectively filter 99% of the fine particles without causing secondary pollution.
2500 mAh HIGH-DENSITY LITHIUM BATTERY
The built-in high-density lithium-ion battery has a capacity of 2500 mAh and can run up to 100 minutes to meet the cleaning needs of 120 ㎡of space.Besides,the new type battery has a longer service life and is more safe and reliable.
SUPER-SLIM DESIGN &0.6L DUSTBIN
The 2.85 ultra-thin body makes it free to enter a variety of complex spaces, such as cleaning under the sofa or beds.Large 0.6L large capacity means you don't need to empty the dustbin frequently
Leave Cleaning to Me and Time to Your Family!
~ Slim, Perfect, and Intelligent APOSEN Robot Vacuum ~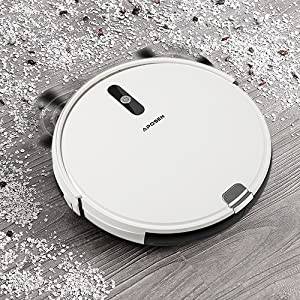 With 1500Pa strong suction, A450 robot vacuum can easily pick up fine dust, pet hair, light-weighted debris, and dirt.Ideal for cleaning all kind of surface.
When the battery is low, the robot vacuum will automatically return to charging, and you can also manually control it through the return charging option on the remote control.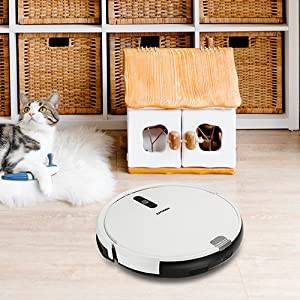 The 3-stage filtration system can effectively filter 99% of the fine particles,dust,and the redesigned double side brush structure has better dust collection performance.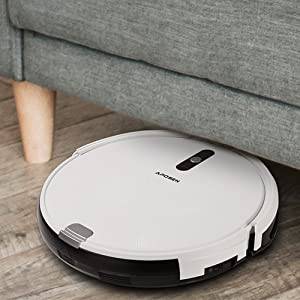 The A450 robot vacuum has a 2.85" super-slim body, which makes it easy to enter a variety of complex spaces, such as cleaning under the sofa or beds.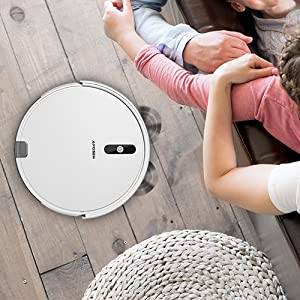 APOSEN conducts rigorous tests on all products to ensure the performance while controlling noise at a reasonable level(below 55 dB in max mode)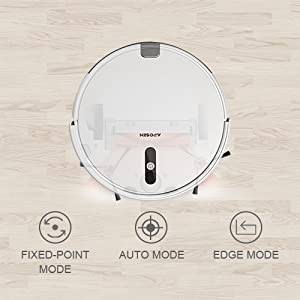 Three brushes (2×side brushes and a main brush)with 1500pa strong suction power can effectively loosen, extract, and vacuum dirt to give a superior clean.
1×APOSEN A450 robot vacuum cleaner, 1×charging dock & power adapter, 2×side brushes, 1×remote control, 1×multi-function cleaning tool, high-performance filters in dustbin, 1×instruction manual, 1×one year worry-free warranty.
| | |
| --- | --- |
| Package Dimensions: | 17.32 x 13.5 x 4.57 inches |
| Item Weight: | 4.13pounds. |
| Product Thickness: | 2.85" |
| Product sku: | ROBA450US |
| Color: | White |
| Batteries: | 2500mAh Li-ion battery. (included) |
| Warranty: | 1 year warranty |
| Connect Type: | Wireless WIFI |
| Suction: | 1500pa |
| Noise Level: | 55dB |
| Run Time: | 100min |
| Dust Cup: | 600ML |
| Cleaning Area: | 120m² |
| Automatically Recharge: | ✓ |
| Control Mode: | remote control and APP control |
| Specific Uses for Product: | under sofa, bed or cupboard, Hard floor, Carpet, Dual action |
Q:Does it get the entire floor area
A:Yes, it gets the entire floor area - depending on the size of the area you are having it vacuum .I have mine in a single room (16X16) and it gets the entire floor area several times during the 20-30 minutes it runs.
Q:Does it work on carpet?
A:It works with low to medium pile carpets (up to 1.02 in/26 mm) but does not work with high-pile carpets.
Q:How does this vacuum preform in an apartment around chairs especially? Does it avoid them completely?
A:If the chairs have enough clearance it vacuums under them. If not it bumps and redirects. I love this thing because it goes under the bed and under the sofa which are places I couldn't get very easily with the regular vacuum.
Q:Will this vacuum stop or return to the charging station when the battery is nearly empty?
A:yes,this robot vaccum with automaticlly returns to charge when battery is low.
Q:How is this different from regular vacuums?
A:Other than doing a wonderful job cleaning the floors on its own, I would say that the biggest difference from using a regular vacuum cleaner is that the RoboVac leaves you FREE to do whatever else you want while it's working its magic.
Q:How well does this vac navigate around table and chair legs/get dog fur out of corners?
A:It goes around chair legs well as long as the chair legs are far enough apart for it to go through them. It goes around our two dining table sets quite well. The dog hair is not around since we started using this daily and the dust container always has plenty of dog hair in it from its good work. I usually check the corners every so often and places it may not reach but it does a great job for us with our heavy shedding pug.