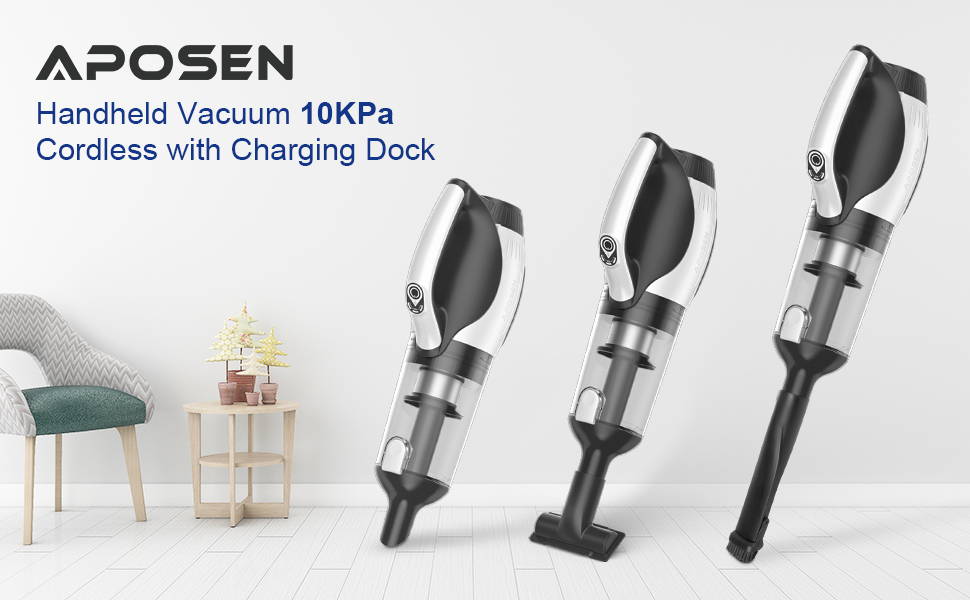 APOSEN 120w Quick Charge Handheld Cordless Vacuum Cleaner H204
helps release your activities to any place to clean stairs, kitchens, cars or hard-to-reach corners without being restricted by the power cord.
The cordless handheld vacuum cleaner has120W motor and 10KPA suction, with cyclone dust separation structure, Ash absorption capacity 0.5L. It is efficient in cleaning dust, paper scraps and small stones.
4x2200mAh lithium-ion battery quick charge tech, which can be fully charged in 5hours, with 30 minutes of using time.
This hand vacuum cleaner is equipped with 2 different attachments and cleaning brush,The brush tool can loosen hair and dust which is stuck in objects for better cleaning. The crevice nozzle tool can be used to clean sofas, crevices and corners.




| | |
| --- | --- |
| Package Dimensions: | 11.9 x 11.8 x 5 inches |
| Item Weight: | 4.09pounds. |
| Power: | 120W |
| Product Model: | H204 |
| Cord Length: | Cordless |
| Warranty: | 12 month warranty |
| Filter: | Washable HEPA |
| Suction: | 10KPa |
| Surface Recommendation: | Hard Floor, Table,Sofa, Home& Pet Hair |
Can't find question? Email us: usa@iaposen.com
What will you get in the package?
APOSEN H204 Cordless Vacuum Cleaner: H20-4 Main Motor, Sofa brush, 2-in-1 brush, Charging dock, Adaptor, Cleaning brush, User Manual.
How long is the after-sale guarantee period?
we offers 12 months 100% FREE manufacturer warranty & 180 days replacement & 90 days refund (Non-artificial damage) .
The multiple accessories of the product can clean up the garbage in multiple scenarios?
Yes, it is possible.The crevice nozzle can clean sofas, cars, kitchens and inaccessible corners and crevices, and the brush can clean dust, hair, dust, etc. stuck on the surface of the object.
What is the input and output voltage/current of the adapter? How long is the power cord/adapter cord? Voltage and current?
According to understanding, the input voltage of the adapter: 100-240V, 50/60Hz 0.2AMax
Output voltage: 18V 420mA
Adapter cable length: 1.8m
Voltage: DC14.8V
Current: 8.1A
It looks great. It's worth it. I checked the price before I bought it. I hesitated, but because my family has many children, it is always dirty. So I must own a vacuum cleaner, and when I got this vacuum cleaner, I was surprised by its appearance. It doesn't look cheap. Its workmanship is also great, lightweight and convenient. I use it twice a week. It can always help me clean my home. It is my right-hand man. I like it very much.
By Brandon on October 18, 2020
I have pets in my home. Can I remove excessive pet hair?
Yes, it can not only remove pet hair, but also clean up the dust accumulated in the cracks on the computer keyboard.
Will the vacuum cleaner be awkward to pick up?
The product conforms to ergonomics, the design is atmospheric and not cumbersome, and it is not tiring to use by men, women and children.
How well does this vacuum work on pet fur and furniture?
It worked great for me on my floor in corners and it is recommended. It is much better than other brands I have used before.