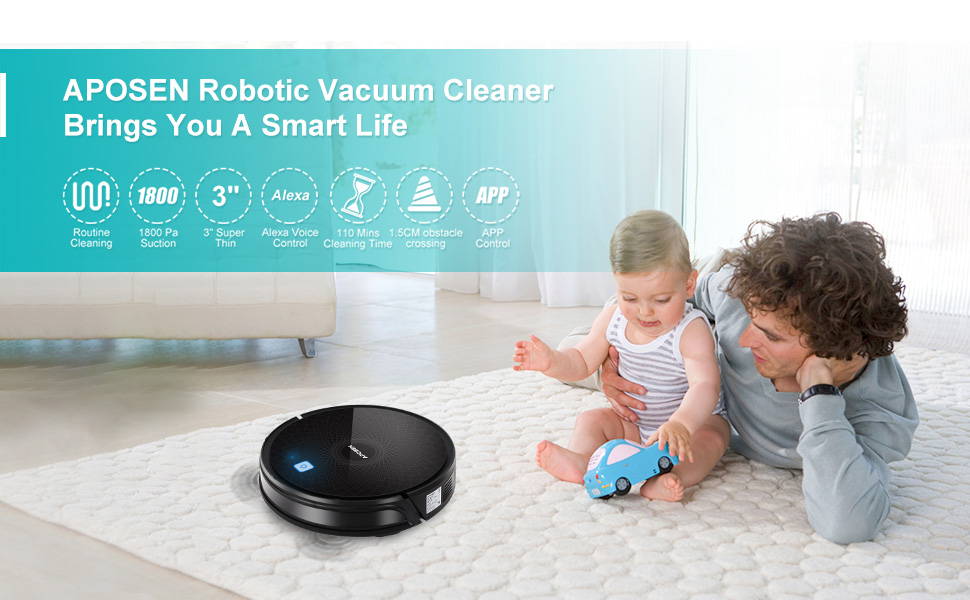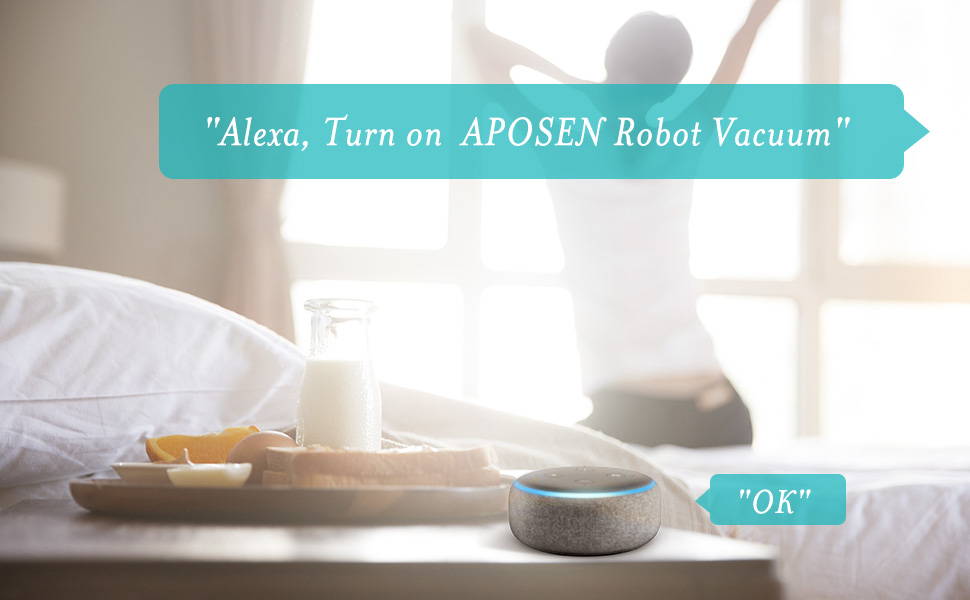 Leave Cleaning to Me and Time to Your Family!
Suction Increased by 40% Compared with Similar Robotic Vacuum-APOSEN self-cleaning robotic vacuum cleaner sucks up dirt and dust with 2100Pa of suction
Automatic Recharge Function-truly achieve cleanliness without interruption,your robot vacuum cleaner will automatically go back to charge when the volume is low.
Long-range Control is possible-remote control and APP control-You can control your wifi robot vacuum start cleaning when in your company through mobile.
Phonetic Function-Your automatic vacuum cleaner come with normal vocal function and error function.
Ultrathin-APOSEN robot can clean the area under sofa ,bed or cupboard.
Long Cleaning Time-110Mins long-lasting cleaning time make you leave the cleaning to me trustingly.
Advanced Filtration System-your robotic vacuum pet hair want to leave nothing to you except for the fresh air.
~ Slim, Perfect, and Intelligent APOSEN Robot Vacuum ~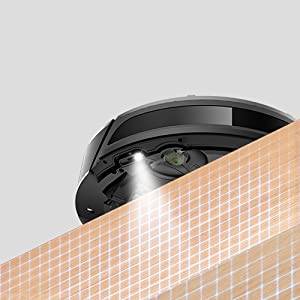 Drop sensors monitor the floor situation continuously.
The robotic vacuum can detect your stairs to avoid falling down.
This ultra thin robot can cleaning freely under your sofa ,bed ,leaves no dead ends .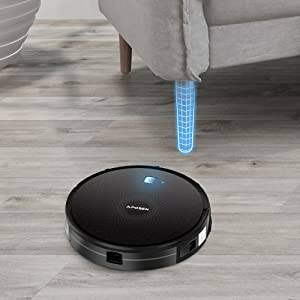 Anti-Collision Technology
Anti-collision sensors help your wifi robot avoid bumping into obstacles so that it can protect your furniture.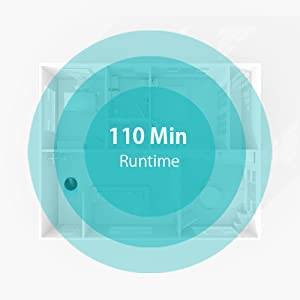 Ultra-high Battery Capacity
Supports your Robotic Vacuum Cleaner runs continuously for up to 110 minutes, ideal for big house and multi-room.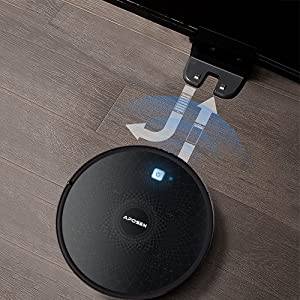 You don't have to worry about running out of power. APOSEN robot vacuum cleaner will automatically returns to charging dock when battery gets low.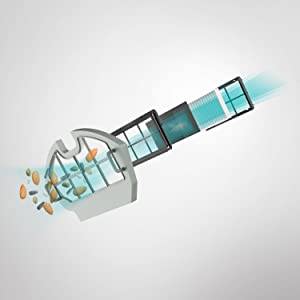 Triple-filter system captures up to 99% of dust mites and allergens. leaves the fresh air to you.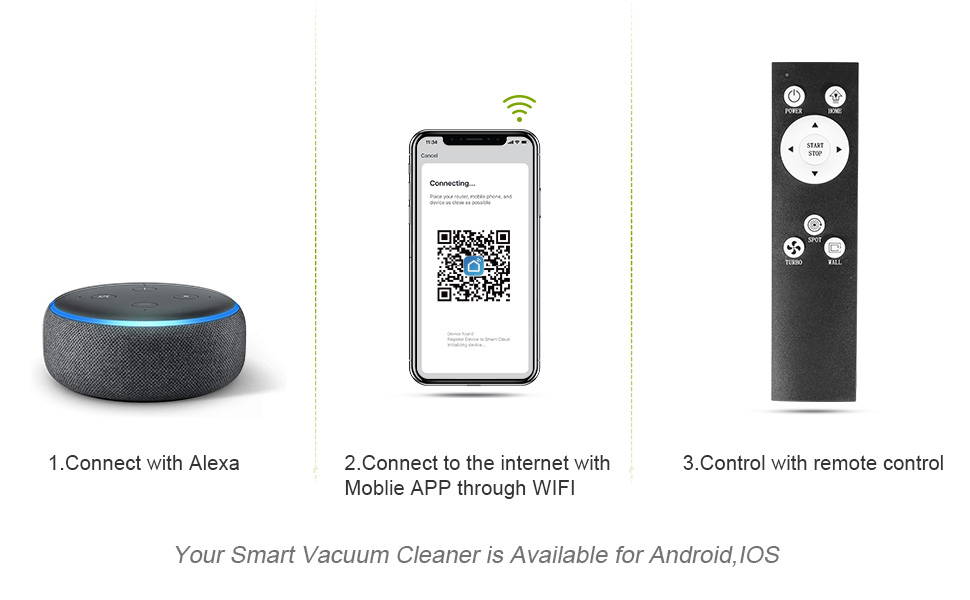 | | |
| --- | --- |
| Package Dimensions: | 19.3 x 13.5 x 4.5 inches |
| Item Weight: | 6.39pounds. |
| Product Thickness: | 3" |
| Product sku: | A550 |
| Color: | Black |
| Batteries: | 2500mAh Li-ion battery. (included) |
| Warranty: | 2 year warranty |
| Connect Type: | Wireless WIFI |
| Suction: | 2100pa |
| Watts: | 120W |
| Run Time: | 110min |
| Dust Cup: | 600ML |
| Cleaning Area: | 1830ft² |
| Automatically Recharge: | ✓ |
| Control Mode: | remote control and APP control |
| Specific Uses for Product: | under sofa, bed or cupboard, Hard floor, Carpet, Dual action |
Q:When will the robotic vacuum cleaner automatically recharge?
A:The robot vacuum will go back to charge after completing
Q:What about the battery? How does that work?
A:The ROBOT A550 has 2500mAh Li-ion battery inside. With a full charge, the machine could run around 110 minutes on hardwood floors with the standard suction mode which is longer than similar robot vacuum and the cleaning area could be 1830ft².
Q:Do I have to place the charger on hard surface? Can't be on carpet?
A:It is recommended that you place the charging station on a flat ground and keep the surrounding area as wide as possible to avoid unnecessary entanglement. Your APOSEN Robot Vacuum comes with 2 years warranty.
Q:Will it vacuum black carpet?
A: Yes, it will. It does a good job on no matter what color the floor is.
Q:How can I contact the customer service?
A:Dear,APOSEN is always there to answer your inquiries. Contact us: usa@iaposen.com. Welcome your email.
Q:is it good for pet hair?
A:It's very efficient at getting most pet hair up out of carpet. It is very good on hardwood floors. and if you found cleaning ability is decreased and began to drop dust ,you can check as follows:
1. The dust box is full, need to clean the dust box;
2. HEPA has been blocked, need to clean it up or change a new one;
3. The middle brush is entangled by foreign matter, need to clean it.
Q:Does it damage or scuff kick plates or floor modings?

A:No
Q:Can it clean at night?
A:It cleaning well by day or by night,and even can remote control it when at office,a cleaned house will be in front of you when you go back home.
Q:My eufy dies after 1 hour of cleaning. Is this worth buying?
A:yeees! I noticed that this is a new released robotic vacuum ,so I bought it with the attitude of trying,After used it ,I recommended it to my friends couse it so cost-effective and the seller offer a warm service,I felt their sincerity,Highly recommend.