How to Ensure Cordless Vacuum Good Suction?
1: Every time after using the machine, empty the trash in the dust cup in time.
2: While emptying the trash, please clean your HEPA and black cylindrical sponge.
3: Note: HEPA and black cylindrical sponge must be cleaned frequently, this will ensure that your machine has better suction power. Failure to clean will cause garbage to block the ventilation openings, resulting in rapid attenuation of suction.
4: The filter should be replaced every 2-3 months to improve dust collection performance.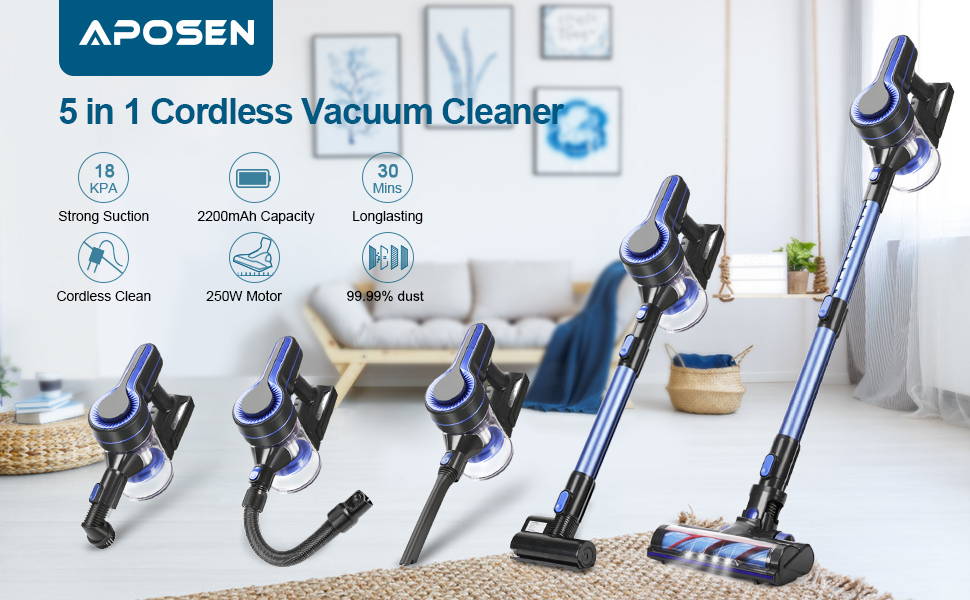 How do Empty APOSEN Cordless Vacuum?
With "Clean Slide Technology", dirt is removed from the separator into the dirt tank, giving you a mess-free empty without the annoying clean up after the cleanup. When the garbage is in the dust cup and cannot be discharged, please use the hook part of the "small brush" in the attachment to clean the garbage in the dust cup.

What Surfaces Does it Work On?
It works across all surfaces across your home and your beloved car.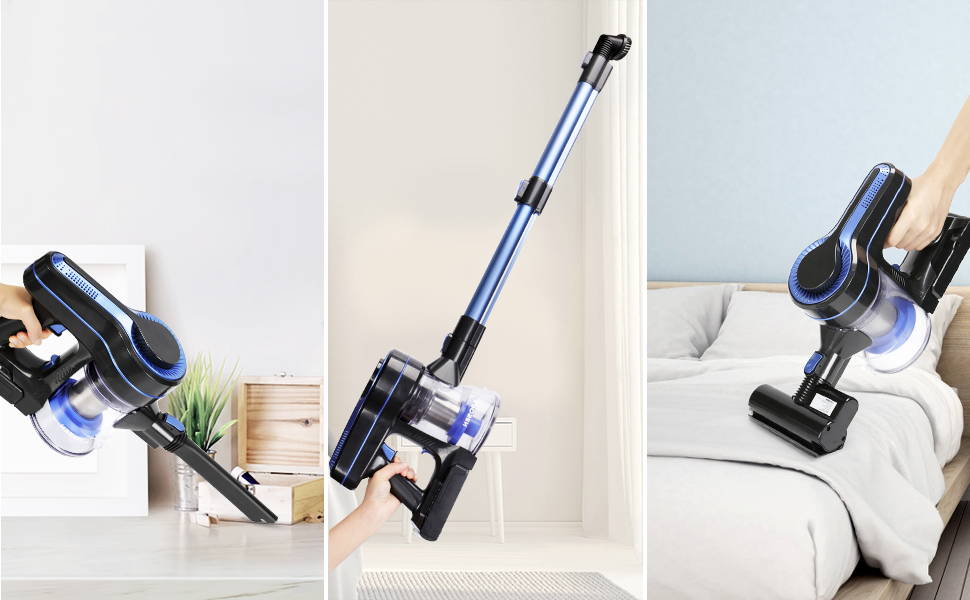 ~ 5 in 1 Cordless Vacuum Cleaner ~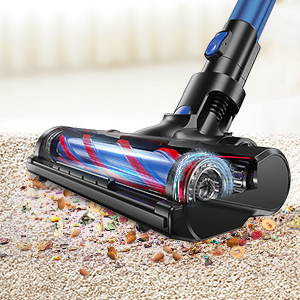 High-Performance Electric Brush
One brush effective on both carpet and hard floor, provides 2.8×power and 85% higher deep clean performance than ordinary cordless vacuum. Easy to tackle either surface or embedded dirt, extreme deep cleaning performance.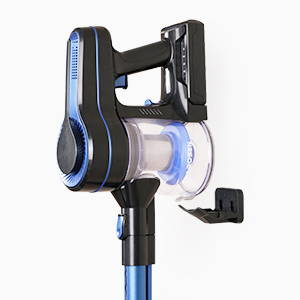 The accessories are mounted on the wall with nails, and the dust cup of the vacuum cleaner is clamped on the accessories, which can be hung on the wall for convenient use and save space.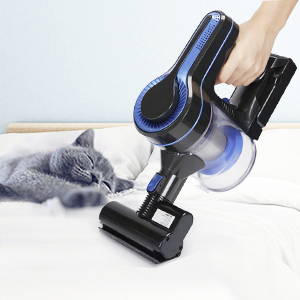 Ultra Quiet & Lightweight
Working sound level: ≤72dB. No need to worry about the loud noise of the vertical vacuum. Cordless makes moving from room to room very easy. Don't disturb you and your family.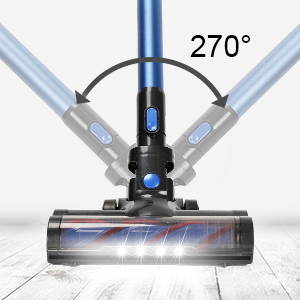 LED Light All-Round Cleaning
The brush head of this cordless vacuum cleaner can be bent in both directions and 270 + 90 degrees. It has no dead corners and is completely flexible. The grip design is not tired for a long time, which can relieve wrist discomfort.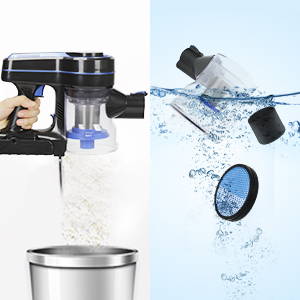 1.2L large capacity dust cup without leakage. This volume is sufficient for several room and car cleanings. The 4x filtration system can lock 99.99% of small particles without having to worry about dust accumulation and blocking the ventilation holes.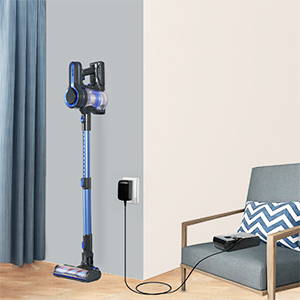 Equipped with 6x2200mAh high-capacity lithium-ion battery for cleaning time up to 30 minutes. Temperature, input voltage, input current, and short-circuit protection ensure the best safety throughout the charging process.
| | |
| --- | --- |
| Product Dimensions: | 17.4 x 10.03 x 8 inches |
| Item Weight: | 5.5pounds. |
| MPN: | H251 |
| Batteries: | 6 Lithium ion batteries required. (included) |
| Warranty: | 2 year warranty |
| Cord Type: | Cordless |
| Suction: | 24000pa |
| Watts: | 250W |
| Charging Time: | 4.5h |
| Longest Use Time: | 30min |
| Dust Cup: | 1.2L |
| Cleaning Path: | 9.25in |
| Brushless Motor: | ✓ |
| Brush Option: | Motorized floor brush/ crevice nozzle / round pet hair brush |
Q:What Will I Get in the Package?
A:H251 Wireless Vacuum Cleaner x 1
LED Turbo Electric Floor Brush x1
Slot Nozzle x1
Round Brush x1
Electric Sofa Brushx1
46cm Extension Hose x1
Telescopic Aluminum Alloy Tube x1
AC Power Adapter x1
2200mAh Battery x1
Wall-Mounted x1
Hair Cleaning Tools x1
User Manual x1
Q:Suction Gets Weak
A:1. Empty the dirt cup.
2. Clean the HEPA filter.Note: Wet HEPA will damage the vacuum and weaken the suction.
3. Check if the dirt cup is installed correctly.
Q:Roller Brush Stops Spinning & Has a Strange Noise
A:1. Check if the brush (especially the bearing part) is stuck by the hair.
2. Check if the filter cup is installed correctly in the right place.
3. Detach the tube, use the handheld part only. If not work, contact the seller for help.
Q:The Battery Doesn't Hold a Charge
A:1. Check if the vacuum cleaner is fully charged with 3 lights on.
2. Check if the charger & charging base is connected correctly.
3. If there is no light on when charging, contact the seller for help.