Unlike other traditional vacuum cleaners, the APOSEN cordless vacuum battery pack is removable/replaceable. And there are three charging methods (the entire vacuum cleaner, a single main head, a separate battery pack).
12 minutes at high/18000pa and 30 minutes at low/70000pa.
Cordless vacuum cleaner with a powered by 6 detachable 2200mAh new lithium-ion batteries, with a large power of 250W enough to support 30min cleaning time.
Cordless design and versatile accessories allow you to freely clean deeply, whether indoors, outdoors or in a car. Two powerful modes are available to suit any task of any floor type.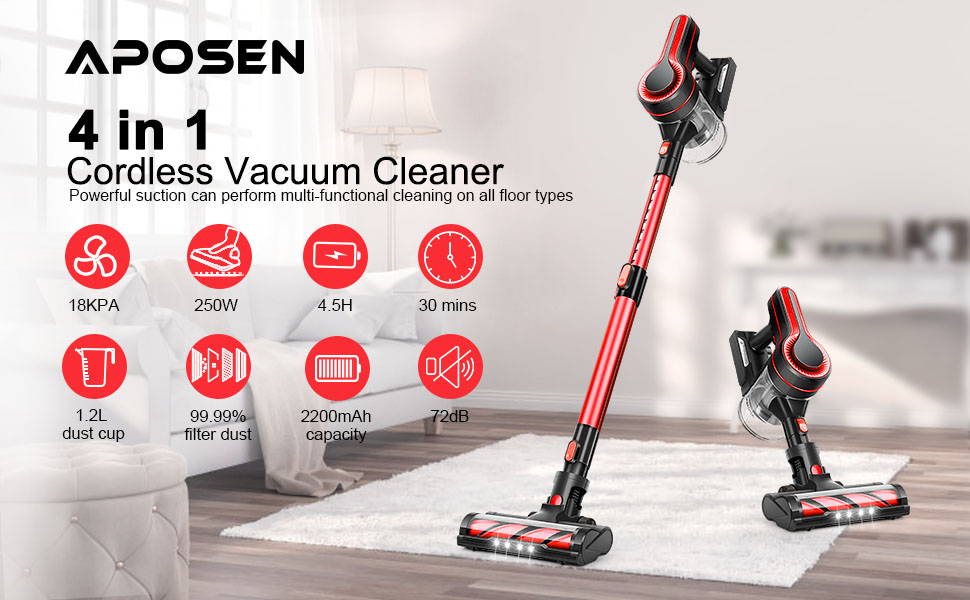 The LED lights on the vacuum cleaner feet are very bright, which can freely trace all kinds of fine dust under the furniture and bed and other debris that can be lost in the dark.
The machine can also be placed flat under the bed and sofa for cleaning, and its low cleaning head and slim design make it easy to clean low and clumsy spaces.
A convenient wall mount can store and charge the machine and can accommodate other accessories.
Contents Include: H250(Red) host, round brush, long flat suction, conductive telescopic tube, turbo ground brush, adapter, wall mount, long cleaning brush.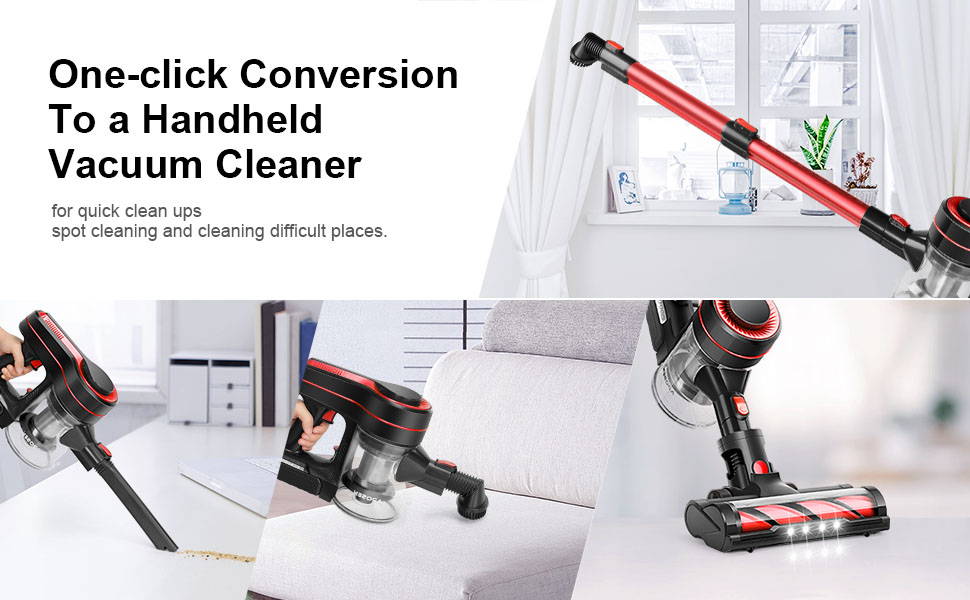 ~ 4 in 1 Cordless Vacuum Cleaner ~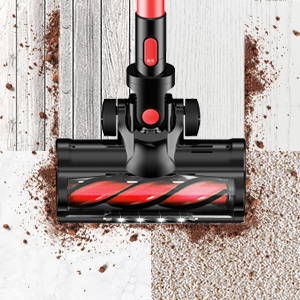 Various Ground Professional Nursing
Provide professional care for different floor types, and special care for different floor types. Easily remove embedded dust and provide perfect carpet cleaning performance. You can go up and down easily without worrying about disturbing your family or scaring your pet when using it.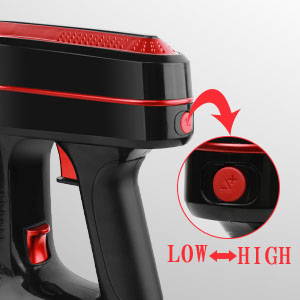 Cordless vacuum is equipped with 2 suction modes to provide a constant suction selection. Just press the red +/- button to meet your different cleaning needs.
18000pa: Run for 12mins
70000pa: Run for 30mins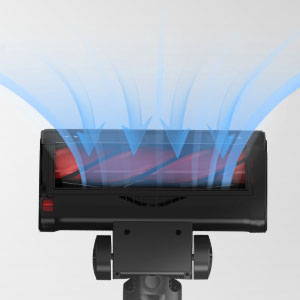 Deep Cleaning of Hard Floors and Carpets
MAX mode can provide 18000Pa super suction power, can immediately remove stubborn dust and large particles, to clean the hardwood floor of the house and the carpet of the room. The cleaning performance is up to 90%.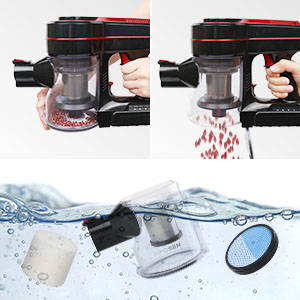 1.2L large-capacity dust cup can hold 160 square meters of garbage and can be easily emptied. The washable components include metal filters and high-density HEPA filters. Before installing again, please make sure that the filters are completely Prevent clogging.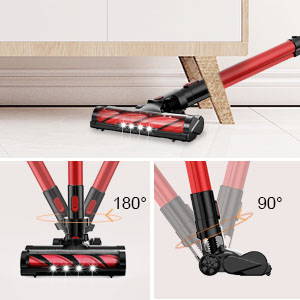 Easy to handle, with swivel steering and low head, it can be laid flat under the bed and sofa for cleaning. Its low cleaning head and slim design make it easy to clean low and awkward spaces. So you can easily clean every corner and hard-to-reach places from any angle.

Adjustable Height/Fast Charging
The telescopic tube is designed for users of different heights (3.7 feet to 4.65 feet). The convenient charging station can store and charge the machine when not in use. The battery can be charged in three ways (main head, single battery pack and the entire machine) ), The charging will be fully charged in 4.5 hours and last for about 30 minutes.


Cleaning Suggestions: After each use of the machine, please empty the trash in the dust collection cup and clean HEPA and the black cylindrical sponge in time to ensure the machine has better suction power. Dirty cleaning can cause garbage to block the vents, As a result, suction is rapidly attenuated. Replace the sponge filter every two to three months.
| | |
| --- | --- |
| Product Dimensions: | 17.4 x 10.3 x 8inches |
| Item Weight: | 5.5pounds. |
| UPC: | 775175045251 |
| Product sku: | H120-9 |
| MPN: | H250(red) |
| GTIN: | 0775185945251 |
| Batteries: | 6 Lithium ion batteries required. (included) |
| Warranty: | 2 year warranty |
| Cord Type: | Cordless |
| Suction: | 24000pa |
| Watts: | 250W |
| Charging Time: | 4.5h |
| Longest Use Time: | 30min |
| Dust Cup: | 1.2L |
| Cleaning Path: | 9.25in |
| Brushless Motor: | ✓ |
| Brush Option: | Motorized floor brush/ crevice nozzle / round pet hair brush |
Q
:How to ensure good wireless vacuum suction?
A:1: After using the machine, please empty the dust in the dust cup in time.
2: When emptying the trash, please clean HEPA and black cylindrical sponge.
3: Note: HEPA and black cylindrical sponge must be cleaned frequently to ensure the machine has better suction power.
Dirty cleaning can cause waste to block the vents, which can cause the suction to decay quickly.
Q:How to empty APOSEN wireless vacuum cleaner?
A:With the help of "Cleaning Rail Technology", dirt will be removed from the separator into the dirt box,
thus providing you with a debris-free empty space without the need for annoying cleaning work.
When the garbage is in the dust cup and cannot be discharged, please use the hook part of the "small brush" in the attachment to clean the garbage in the dust cup.
Q:How to worry-free warranty?
A
:A
posen provides "Worry-Free Warranty" -24 months worry-free warranty, one-year free replacement service and 24-hour professional customer service. If you have any questions, please contact us directly. We will use the most professional knowledge to solve your problems. Contact us by: usa@iaposen.com
Q:How about suction?
A
:
This is a vacuum cleaner with super suction power and a 250W high-power motor. The maximum suction power is 1.8 times that of ordinary electric cordless vacuum cleaners. It provides high-performance cleaning on hardwood floors, carpets, walls, curtains and furniture. Any question welcomes to contact us again. We will process it for you within 24 hours. Email: usa@iaposen.com
Q:I have a naughty cat. Can this wireless vacuum cleaner suck a small amount of cat litter?
A:I am a pet lover, so I have a lot of pets in my house. This powerful vacuum cleaner is essential for me. It can help me clean my pet 's hair, as well as some debris, cat litter, etc Wait, I think this is a great product. If you have pets at home, I think you can try it.