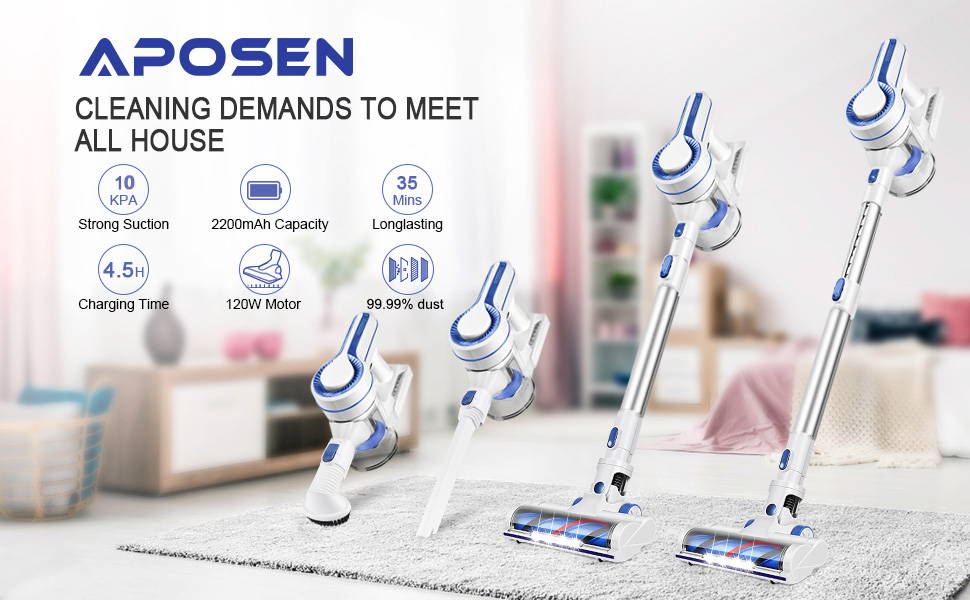 Hi! I have a good partner called H120.
Don't think that we are the same. If you look closely, you will find the difference.
I have bright eyes and can see all the hidden dust, hair, or debris, etc. This is my strength. (LED Brush Head)
I am a big hungry friend. I like to eat a lot of food, so my stomach has 1.2L, which is about 3 times that of others. (1.2L Large Capacity Dust Cup)
Sometimes I work for a long time and I feel a little tired (35 minutes), but it does n't matter, as long as you give me 4.5 hours of rest, I can continue to work with full energy.
I hate dust, so my mother gave me a powerful filtering function when she was pregnant. It can filter 99.99% of dust and allergens, which allows me to protect my body. (High-Performance Filtration)
I am a strong but very thin big friend, so do n't worry about my weight, I only have 3lb, but please do n't doubt my potential strength. (Lightweight)
My body is different from others, I can become magic, can be high for a while, low for a while, if you do n't believe you can take me home to try it. (Telescopic Adjustment:3.7 ft to 4.65 ft)
My good friend H120 told me that the homeowner 's house has carpet, so I 'm ready, I ca n't wait to work for you and keep your carpet clean. (Use Effect of Carpet)
I still have one of the biggest secrets I want to tell you, that is, I like you very much, and I want to go home with you very, very, very much, will you take me back to your warm home? I am looking forward to you.....
~ 4 in 1 Cordless Stick Vacuum Cleaner ~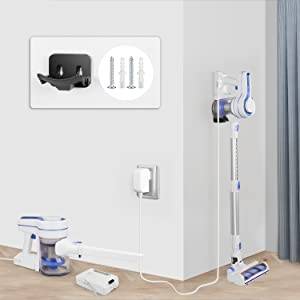 Powerful vacuum can charge the battery in three ways (main unit head, a single battery pack, and the entire machine). And the wall-mounted type can be converted into a compact size when it is suspended or stored in a closet.

Under the hard floor vacuum of 6kpa, 18min-super 10kpa, it has excellent good running time, up to 35 minutes. Press the blue-button above the main battery to separate the battery from the machine and charge it separately.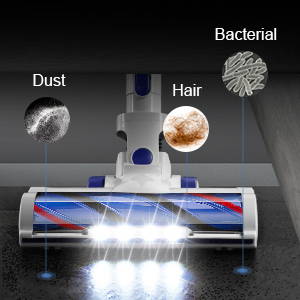 Ultra-thin Electric Cleaning Head
Cordless vacuum LED lights to keep each dark corner clean, allowing you to see and clean all dust under furniture and low clearances (minimum height 3.15 inches), such as a bed or sofa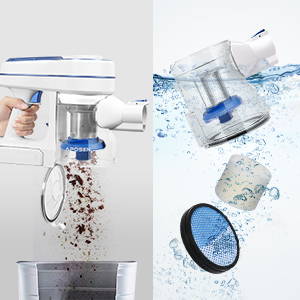 The high-capacity 1.2L trash bin means fewer stops during use, while the "One-Click Publishing" design makes emptying simple and hygienic. The entire filtration system can be cleaned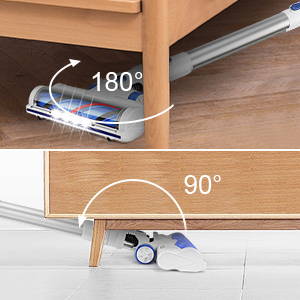 The brush head of this lightweight vacuum cleaner can be bent at 180° and 90°, the machine can also be placed flat under the bed and sofa for cleaning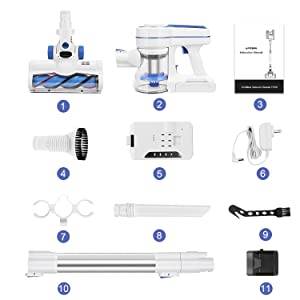 Your Cordless Vacuum Cleaner Set
Motorized Cleaner Head, Main Motor, User Manual, Round Brush, Battery Pack, Adapter, Accessory Bracket, Long Flat Nozzle, Cleaning Brush, Removable Metal Rod, Wall-Mounted Docking Station.


| | |
| --- | --- |
| Product Dimensions: | 17.5 x 10 x 8 inches |
| Item Weight: | 7.2 pounds |
| UPC: | 7427115301335 |
| Product sku: | VACH12AUS |
| MPN: | H120 |
| Batteries: | 1 Lithium ion batteries required. (included) |
| Warranty: | 24-monthly |
| Cord Type: | Cordless |
| Suction: | 10000pa |
| Watts: | 120W |
| Charging Time: | 4.5h |
| Longest Use Time: | 35min |
| Dust Cup: | 1.2L |
| Cleaning Path: | 9.05in |
| Brushless Motor: | ✓ |
| Brush Option: | Motorized floor brush/ crevice nozzle / round pet hair brush |